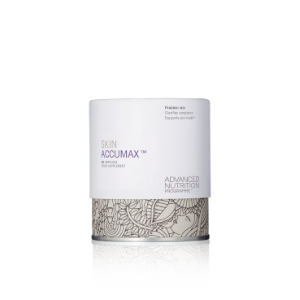 SKIN ACCUMAX
Skin Accumax  is an award-winning skincare supplement for those with problem skin and works from the inside out to support healthy skin.
SKIN ANTIOXIDANT
Skin Antioxidant is formulated to help safeguard your skin from the inside out and keep it looking younger for longer.
SKIN CLEAR BIOME
The four unique bacteria and yeast strains in Skin Clear Biome have been combined with zinc to target problem and stressed skin by supporting and balancing from the inside out.
YOUTH BIOME
Skin Youth BiomeTM harnesses pioneering microbiome technology to support the skin from deep within to give more youthful looking complexion.
SKIN COLLAGEN SUPPORT
Harnessing the synergy of five ingredients. These plant-based capsules are packed with a clever cocktail of vitamin C, zinc, MSM, grapeseed extract and melon concentrate.
SKIN COMPLETE
Skin Complete is a duo containing two supplements which help safeguard the skin for a healthy looking complexion.
SKIN MOISTURE LOCK
Patent pending skin supplement that combines hyaluronic acid with ceramides. The result is a more youthful complexion that is smooth and supple.
SKIN OMEGAS+
Skin Omegas+ is an excellent all-rounder for overall skin health and for skin integrity, a healthy lipid layer and a smooth, luminous complexion.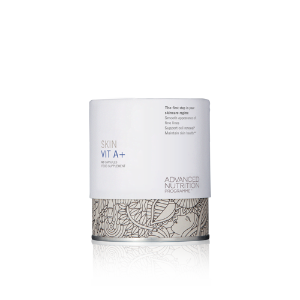 SKIN VIT A+
Vitamin A is one of the most important nutrients for skin health. Vitamin D has been added to Skin A+ to support bone, muscle and immune health.
SKIN VIT C
Powered by three ingredient technologies: vitamin C, zinc and acerola berry in a daily dose vitamin capsule to help brighten dull-looking skin.
SKIN VITALITY
Skin Vitality is our new, modern multi-vitamin which delivers a total of 28 smart nutrients in convenient, one-a-day clean capsules for total skin, nail, hair, body and wellbeing support.
SKIN SELECT
Skin Select contains our three essential skin supplements for a healthy*, smooth and hydrated complexion.
SKIN PLUS
Skilfully designed by our Advanced Nutrition ProgrammeTM experts, Skin Plus is a comprehensive supplement system formulated for optimum skin, hair and nail health.
SKIN ULTIMATE
Our award-winning, intelligent supplement system provides ultimate support for healthy skin. Each of the five supplements work in synergy to provide potent combined benefits for skin and wellbeing.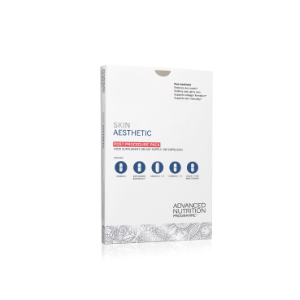 SKIN AESTHETIC
Skin Aesthetic Post-Procedure Pack is a supplement pack formulated to help support skin health*, specially designed for those clients that have undergone aesthetic skin procedures.